Pre-Natal Series Class
This class is taught by: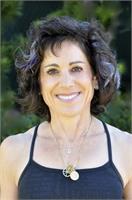 Deborah has always been a fan of movement. She began ballet and tap dancing as a child, and continued her interest in dance with course work in modern dance while attending California State University at Northridge where she received a degree in psychology. She briefly considered becoming a dance and movement therapist, but once she completed her psychology degree, shifted her interests to politics and attended law school. Recognizing early on that this shift in interest was not her true dharma, she re-entered the fitness field managing a health and fitness center in Los Angeles and becoming an ACE certified personal trainer. Shortly after certifying as a trainer, she found Yoga and found her home. Yoga has transformed Deborah's life in so many ways, bringing a peace and tranquility to her that she loves to share with her students. She loves to share her story of "trying" a class one day and walking out feeling as though she were a completely different and whole person for the first time in years. The ability of a practice to bring such contentment and peace was just short of a miracle for Deborah who is a single parent of two special needs children. Deborah loves to share her Yoga experience with others as they journey on their own quest for calm, peace and fulfillment. She also loves to work with "mama's to be" on their journey through the pregnancy process…a very special time in a woman's life, by bringing a sense of community and love to women as their bodies change in the creation of a new life and spirit. To that end, she received her prenatal/postnatal yoga certification through the Yoga Alliance. Deborah has studied Yoga with many of today's well-known and sought after yogi's including James Brown, Alexandria Crow, Kathryn Budig and Chrissy Canning. She studied pranayama with Peter Sterios and mediation with Rolf Gates. She is certified as an E-RYT200 and RPYT with the Yoga Alliance. She also has earned a B.A. in psychology (emphasis on special needs children and personality disorders).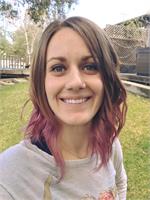 My name is Ashleigh and in my early twenties, a roller derby injury left me very hurt and very angry. My new mission in life was to find peace, to heal my spirit and be happy. I have been consciously cultivating a life of love since and found yoga could heal not only my body but also my heart. Living my yoga provides me an opportunity to not suffer, but to learn, grow and discover ways of moving forward with new perspective and insights.
I have been practicing yoga since 2010 and in 2015 completed my 200 hr Integral Awakening Yoga Teacher & Advanced Studies Certification (RYT200) from Seaside Yoga Sanctuary, which has been voted best yoga studio in Monterey Ca for 7 years in a row, with Laura McKinnon and Mahindra Briksha. I enjoy blending hatha, yin and restorative yoga postures for a full mind-body-spirit connection. My classes build upon the core belief that foundation come first, then strength, endurance and lastly flexibility. I emphasize alignment and breath awareness while inviting time to dig deep and connect within. My hope is that you step off the mat feeling restored, balanced and connected to your center. My classes are open to all levels and all body types.
I studied prenatal and postnatal yoga at the Mt Madonna Center with Hannah Muse and prenatal Kriya yoga with Camella Nair. I've trained as a pregnancy health coach, birth/postpartum doula and placenta encapsulation specialist to empower, educate and support moms at any stage of motherhood. My classes are powerful, balancing and playful while creating a supportive environment that allows for a deeper understanding of the magical relationship between mother and baby. I utilize guided mediation, healing sound, light touch, gentle asana, and aromatherapy to bring awareness to the breath and womb space.
I live on the beautiful Central Coast of California with my fiancé, daughter and posy of fur babies. I am the owner and designer of Rae Rose Jewelry and Design,and can be found at local events and festivals showcasing my handcrafted jewelry, crystal and other healing items. I also lead women's moon circles, have a BA in Psychology, am a health coach and crystal healer. I enjoy hula hooping, the river, spending time with my family and sisterhood, and creating things.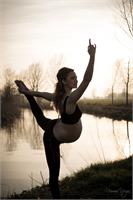 Yoga and pregnancy seem to fit together naturally. The flowing movements help to tone and stimulate the muscles and bones without depleting energy, the seated poses nourish our tissues and organs and help us focus our minds, and the breathing exercises teach us how to remain calm and open in the face of vulnerability, stress, and states of flux. All of these aspects of a Yoga practice can enhance the experience of pregnancy and give us tools for labor, delivery and beyond.
During this series class, we'll look at Yoga sequences and exercises that create space in the body for your baby to grow, relieve common prenatal concerns, and prepare your state of mind for the changes ahead. You'll have a chance to share this important time of your life with other moms-to-be in a supportive and caring environment and participate in the prenatal experience more fully and with greater awareness.
"I labored naturally for 12 hours. I am so thankful for the yoga work I had done. I was able to maintain focus through each contraction and keep calm through breathing techniques I learned through yoga practice." -Shannon: Pre-Natal Student at S.D.Y.
Price: $75 (Register early as enrollment is limited to 8.)
Upcoming classes: