Teacher Training: Weekend 11
This class is taught by: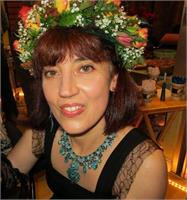 With more than 25,000 hours of teaching experience to populations with different needs and abilities – from disabled individuals, to children and seniors, and every type of person in between, I offers a unique perspective, attention to detail and creativity that inspires as much as it challenges and informs. My fascination with the body and extensive anatomical knowledge helps me create a practice for every type of body and every type of intention. Because of my long study of the historical and philosophical roots of yoga I can entertain any kind of question and curiosity on the subject, facilitate discussions and lecture successfully.
I began teaching in 2001 by request from many people in the area. From 2004 - 2012, I was a contributing writer with a monthly column called "Yoga for Life" for The Bay News. In 2013, I wrote a column on all things psychologically human for Indulge SLO. From Dec 2009 - May 2011, I had fun producing a regular monthly TV show, called "Yoga for Life" on Ch. 2/Charter/San Luis Obispo County.
I have a very diverse background in yoga. I've had the privilege of studying (past and present) with Sarah Powers, Paul Grilley, Shiva Rea, Dr. Hiroshi Motoyama, Scott Blossom, Dharma Mittra, Jack Kornfield, Dr. Georg Feuerstein and many, many others, gaining understanding and experience in many yoga traditions and styles.
My classes are smooth, grounding, and meditative, following the breath and developing mindfulness. Often students say that they find a deeper connection to their bodies, and appreciate the non-judgmental care they receive from me. You will never e asked to do something you can't or you don't want to. I encourage personal exploration and self-compassion.
In addition to my passion for yoga as vehicle for liberation, I have a Masters in Psychology from JFK University. I am a life long student of personal development, growth and transformation, Eastern wisdom traditions and Western social sciences.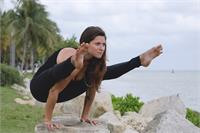 Sera has been a grateful student of Yoga and Ayurveda for many years. She has been blessed with teachers who have searched classically for the patterns of the Universe and Spirit. Her studies and experiences in the realms of Yoga, Mantra, and Ayurveda all serve to assist in increasing depth, sensitivity, and simplicity in ways that both utilize and increase grace and observation.
Some of her teachers include, Andrey Lappa of Universal Yoga, Kula Yoga Project, Sankalpah College of Yoga (Yoga), Sadhvi Abha Saraswatiji and Raghunath Cappo (Mantra), Vaidya Ravi of Poonthottam Ayurvedasram, the California College of Ayurveda, and BCD (Ayurveda). Her teachers of touch include those at Sunshine School (Chiang Mai, Thailand) and Ohm (Omsala Chiang Mai, Thailand) for the wisdom of Thai Massage and Chi Nei Tsang.
Each of her teachers has forever moved her to be more observant, respectful, humble, and sincere - qualities ever present in yoga and its teachings.
In classes we will focus on the science behind the relationships between the body, the mind, and their bridges . We are concerned with the flow of prana, how and where it moves and does not move in posture, in nadi, with consciousness. Using the paradigms of Ha-tha Yoga and Ayurveda we will explore our capacity to be both strong and flexible, moving and still, Ha and Tha, and of course, migrating in the direction of steady appreciation and awareness.