Inferno Hot Pilates
This class is taught by: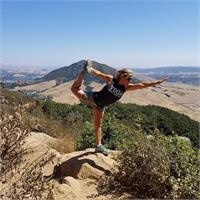 My first Bikram Yoga class was in 2007 and although I didn't fall instantly in love, there was something about it that stuck with me. My second class was in November 2012 at Bikram Yoga Chelmsford and I've never looked back. After having gone through minor back surgery after my first child and struggling with pain again after my second child, I knew I needed something stronger than what the doctors were prescribing. Pain medications were only masking the problem, but Bikram Yoga was fixing it. Not to mention all the additional side affects like better overall health, increased energy and strength, less stress and more confidence.
I quickly fast-tracked my practice by taking a private lesson, began training and competed in my first competition in October 2013 and left for teacher training in April 2014!
I love that I can share this incredible "medicine" through teaching. I am inspired everyday by the changes, struggles and progress I see my students make.
In 2014, I found myself coaching students for both the New England Regional Yoga Asana Championships and National Championships and it has become another amazing step in my career as a Bikram Yoga teacher.
I had another new journey begin in 2015 when I took my first Yoga Sculpt class followed shortly by my first Inferno Hot Pilates class. I fell immediately in love with the blend of yoga, weight training and cardio and found myself back in teacher training mode. Today I am a certified instructor of both Yoga Sculpt and Inferno Hot Pilates.
Although my formal background is in marketing, I'm happy to say today that I am a wife, full-time mom of two, yoga & fitness instructor and lifetime student!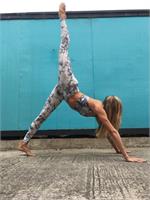 The daughter of a self-taught, nationally ranked cheerleading coach mother, and a state wrestling champion father, one of Chandra's earliest memories is of stretching and exercising. She spent time in gymnastics, figure skating, and track and field, before ultimately falling in love with ballet for it's unique combination of athleticism and art.
After an early career as a professional dancer, teacher, and choreographer with several Bay Area based companies, an injury led Chandra down a different path. Frustrations with her own physical limitations caused her to walk away from the passionate life she loved. Years later, seeking relief from the chronic pain that shadowed her, she discovered yoga & had an unexpected moment of mental clarity on the mat that led her to hang up her corporate leadership hat on the spot. She rediscovered her true passion for coaching and motivating people, with her immense drive to inspire others thru the science of health and fitness.
Chandra found yoga as an effective tool for healing old injuries & restoring full functionality back to her body. After having experienced the immense benefits of yoga first hand, she was inspired to attain her 500-ERYT. Chandra holds additional certifications in Primary Group Fitness thru AFAA, Barre, Pilates, Yoga Sculpt, Jillian Michael's BodyShred, and is an ACE CPT. Chandra's personal experiences & time spent as the former Studio Director of Smiling Dog Yoga, Barre, and Fitness, have directly shaped her teaching style, & she strives to create a safe, form focused class environment full of learning, fun, uniquely balanced sequencing, and killer playlists designed to distract you from just how hard you are actually working (#thesneakysoremethod). Her students call her classes energizing, uplifting, and dynamic. When not at the studio, Chandra can be found reading anatomy books on the beach, binge watching mindless Bravo TV shows while working out, DIYing various arts & crafts, or feeding her retail addiction. She is fluent in Sarcasm. She looks forward to welcoming you to The Dog, and can't wait to show you all our amazing community has to offer!
Inferno Hot Pilates is high-intensity interval training (HIIT) using Pilates principles. We will focus on using core strength through various low-impact exercises to help get you to your fitness goals. The room will be heated up to 95 degrees, so be sure to bring your mat, towel, water...and be ready to rock out with some fun music!