Yoga 101
This class is taught by: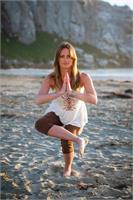 Britt Migrated from Orange County six years ago and now lives in lovely little Morro Bay. She always maintained a pretty active lifestyle and spent most of her adolescent and teen years swimming, running, and golfing. About seven years ago she was experiencing severe neck and back pain from a car accident and was drawn to a restorative yoga class as way to help ease her pain. As she got deeper into her practice she had the privilege to get to know so many wonderful yogis within the yoga community which eventually inspired her to obtain her 200-hour teacher training certification through our very own, Smiling Dog Yoga. Britt's focus is offering a practice that is welcoming to all levels. Britt is excited to be apart of the community and delighted to share her experience with others.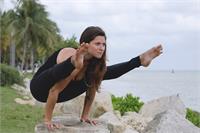 Sera has been a grateful student of Yoga and Ayurveda for many years. She has been blessed with teachers who have searched classically for the patterns of the Universe and Spirit. Her studies and experiences in the realms of Yoga, Mantra, and Ayurveda all serve to assist in increasing depth, sensitivity, and simplicity in ways that both utilize and increase grace and observation.
Some of her teachers include, Andrey Lappa of Universal Yoga, Kula Yoga Project, Sankalpah College of Yoga (Yoga), Sadhvi Abha Saraswatiji and Raghunath Cappo (Mantra), Vaidya Ravi of Poonthottam Ayurvedasram, the California College of Ayurveda, and BCD (Ayurveda). Her teachers of touch include those at Sunshine School (Chiang Mai, Thailand) and Ohm (Omsala Chiang Mai, Thailand) for the wisdom of Thai Massage and Chi Nei Tsang.
Each of her teachers has forever moved her to be more observant, respectful, humble, and sincere - qualities ever present in yoga and its teachings.
In classes we will focus on the science behind the relationships between the body, the mind, and their bridges . We are concerned with the flow of prana, how and where it moves and does not move in posture, in nadi, with consciousness. Using the paradigms of Ha-tha Yoga and Ayurveda we will explore our capacity to be both strong and flexible, moving and still, Ha and Tha, and of course, migrating in the direction of steady appreciation and awareness.
Yoga 101 is a slower-paced yet dynamic class that balances strength and stability with poise and relaxation. Expect broad-based work and variety, from traditional to complex, with a focus on educational instruction. This class is great for beginners to advanced yogis.
Upcoming classes: