Advancing Your Asana
This class is taught by: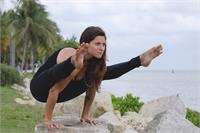 Sera has been a grateful student of Yoga and Ayurveda for many years. She has been blessed with teachers who have searched classically for the patterns of the Universe and Spirit. Her studies and experiences in the realms of Yoga, Mantra, and Ayurveda all serve to assist in increasing depth, sensitivity, and simplicity in ways that both utilize and increase grace and observation.
Some of her teachers include, Andrey Lappa of Universal Yoga, Kula Yoga Project, Sankalpah College of Yoga (Yoga), Sadhvi Abha Saraswatiji and Raghunath Cappo (Mantra), Vaidya Ravi of Poonthottam Ayurvedasram, the California College of Ayurveda, and BCD (Ayurveda). Her teachers of touch include those at Sunshine School (Chiang Mai, Thailand) and Ohm (Omsala Chiang Mai, Thailand) for the wisdom of Thai Massage and Chi Nei Tsang.
Each of her teachers has forever moved her to be more observant, respectful, humble, and sincere - qualities ever present in yoga and its teachings.
In classes we will focus on the science behind the relationships between the body, the mind, and their bridges . We are concerned with the flow of prana, how and where it moves and does not move in posture, in nadi, with consciousness. Using the paradigms of Ha-tha Yoga and Ayurveda we will explore our capacity to be both strong and flexible, moving and still, Ha and Tha, and of course, migrating in the direction of steady appreciation and awareness.
So many of us dream of floating into headstands with ease, of lightly lifting off our toes to balance like a scale in handstand, to bravely tip sideways into a clean side crow posture. During scheduled classes however, there is rarely enough time to breakdown and workshop these asanas. Thus, in this 6 week series, we will do this very thing. Every class will begin with a fluid warm up to prepare the body for the necessary mechanics to come. From here we will learn and develop the necessary tools to arm balance, invert, and move into more complex standing balances.
This workshop series is open to all levels, but it is recommended that you are able to practice and sustain an aligned chatturunga dandasana for 3-5 breaths. For those who are able to balance already, I will offer you more complex variations on those you already know and love. There is something for everyone, guaranteed.
When: WEDNESDAYS, beginning 9/19 - 10/17
7:00pm - 8:15pm
Price: Members and Staff: $150
Early Bird Special: $130 - if purchased by 9/10
Single Drop In: $40
See you on the mat!