Ashtanga Flow
This class is taught by: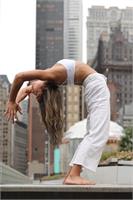 the methodological discipline her teachers instill into her personal practice greatly influence her teaching style. the importance of alignment and stability, and syncing the breath with body movement is underlined in all her classes.
she's so super grateful for her teachers and intends to be a lifetime student of this practice; always learning, constantly striving to improve herself. her mission is to inspire others to realize their full potential; encouraging them to take their newfound confidence and clarity off the mat and into everyday life.
This all-level vinyasa class is based off of the astanga yoga primary series, in Sanskrit called "yoga chikitsa" or "yoga therapy", with modifications and variations provided - beginners welcome. Emphasis will be on breath ("pranayama"), posture ("asana"), and eye gaze ("drishti") to help purify our body, calm our nervous system, and quiet our mind.
Upcoming classes: