Beats Cycle Power Ride
This class is taught by: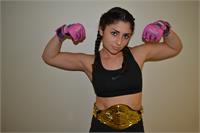 Natalee has forever been a sports and fitness fanatic. Her competitive, adventurous spirit has led her down many athletic avenues. From high school varsity basketball and track-and-field, to competing in various Crossfit competitions, she has never been one to back down from a new challenge. Since finding her true passion in cycling in 2016, she has taken hundreds of spin classes as well as earned her Schwinn Indoor Cycling Instructor Certification. Natalee is currently studying Kinesiology with a concentration in Exercise Science at Cal Poly. She enjoys that the nature of her studies revolves around something that she is genuinely interested in and applies her exercise science knowledge to her cycling classes. When she is not on the bike, you can find Natalee exploring SLO with her friends, trying all the local restaurants and enjoying the outdoors. She also loves fun, upbeat music and is always listening for new songs to play in her classes!
A cycling class that is musically driven, connected yet competitive, loud yet peaceful, hard yet manageable. Delivered outside on our courtyard, the metrics will show you how hard you are working and how to determine your output.
Music is the key to a Beats Cycle Class since the beats drive the rhythm and the work.
Space is limited so pre-registration is required.
Upcoming classes: