Flow into Fall with Ahmed Famhy
This class is taught by: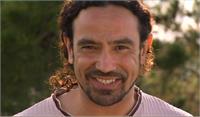 Originally from Cairo, Egypt, Ahmed has studied yoga since 2000, both Indian and Egyptian forms. He's trained with Jody Kamator and Next Generation Yoga for Kids and found he was a natural teacher. Ahmed also teaches hatha yoga with a multi-cultural approach. His DVD for children, Storyland Yoga was released in 2010 and has received much recognition, included the Parent's Choice Award for quality educational programming for children.
Yoga of 4 directions is a system of breathing and flowing from movement into stillness is asana engaging ligemants, soft tissue and joints as well as toning and strengthening muscles. The emphasiss of the movements is playing with gravity to connect and balance the right and left side of the body as well as the upper and lower body. The movements will be belended with some stillness in grounded postrues to recover and bring the heart rate back down and the mind into a deep meditative restful state. Join Ahmed for this amazing workshop that you don't want to miss!
Early Bird: $30 (register before Nov 3rd)
Regular price: $40
Members get 10% off!