Buti Yoga
This class is taught by: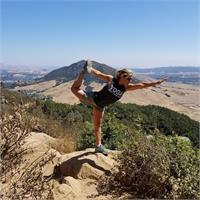 My first Bikram Yoga class was in 2007 and although I didn't fall instantly in love, there was something about it that stuck with me. My second class was in November 2012 at Bikram Yoga Chelmsford and I've never looked back. After having gone through minor back surgery after my first child and struggling with pain again after my second child, I knew I needed something stronger than what the doctors were prescribing. Pain medications were only masking the problem, but Bikram Yoga was fixing it. Not to mention all the additional side affects like better overall health, increased energy and strength, less stress and more confidence.
I quickly fast-tracked my practice by taking a private lesson, began training and competed in my first competition in October 2013 and left for teacher training in April 2014!
I love that I can share this incredible "medicine" through teaching. I am inspired everyday by the changes, struggles and progress I see my students make.
In 2014, I found myself coaching students for both the New England Regional Yoga Asana Championships and National Championships and it has become another amazing step in my career as a Bikram Yoga teacher.
I had another new journey begin in 2015 when I took my first Yoga Sculpt class followed shortly by my first Inferno Hot Pilates class. I fell immediately in love with the blend of yoga, weight training and cardio and found myself back in teacher training mode. Today I am a certified instructor of both Yoga Sculpt and Inferno Hot Pilates.
Although my formal background is in marketing, I'm happy to say today that I am a wife, full-time mom of two, yoga & fitness instructor and lifetime student!
During this two hour workshop we'll start by going over Buti Basics (the spiral structure, Buti Yoga form and technique, and modifications), followed immediately by a Buti Yoga class! Bring a mat, towel and water and prepare to burn some serious calories.
Buti Yoga is a blend of power yoga, tribal dance and plyometrics into a high-intensity workout that transforms the body from the inside out. Buti Yoga consists of deep stretching, shaking and heart-pounding cardio.
Early Bird Special (starts Nov 25th, ends Dec 2nd): $30
Regular Price: $35
Members get 10% discount!