Foundations
This class is taught by: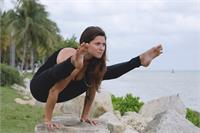 Sera has been a grateful student of Yoga and Ayurveda for many years. She has been blessed with teachers who have searched classically for the patterns of the Universe and Spirit. Her studies and experiences in the realms of Yoga, Mantra, and Ayurveda all serve to assist in increasing depth, sensitivity, and simplicity in ways that both utilize and increase grace and observation.
Some of her teachers include, Andrey Lappa of Universal Yoga, Kula Yoga Project, Sankalpah College of Yoga (Yoga), Sadhvi Abha Saraswatiji and Raghunath Cappo (Mantra), Vaidya Ravi of Poonthottam Ayurvedasram, the California College of Ayurveda, and BCD (Ayurveda). Her teachers of touch include those at Sunshine School (Chiang Mai, Thailand) and Ohm (Omsala Chiang Mai, Thailand) for the wisdom of Thai Massage and Chi Nei Tsang.
Each of her teachers has forever moved her to be more observant, respectful, humble, and sincere - qualities ever present in yoga and its teachings.
In classes we will focus on the science behind the relationships between the body, the mind, and their bridges . We are concerned with the flow of prana, how and where it moves and does not move in posture, in nadi, with consciousness. Using the paradigms of Ha-tha Yoga and Ayurveda we will explore our capacity to be both strong and flexible, moving and still, Ha and Tha, and of course, migrating in the direction of steady appreciation and awareness.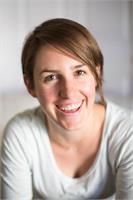 Alison Bode has a long history of interest in health and fitness, but made a point of avoiding yoga for years because she was never very flexible. With the encouragement of a friend, she attended her first yoga class in 2010. She loved the feeling of peace and grounding it gave her and has been hooked ever since.
Alison received her B.A in Philosophy from California Polytechnic State University in San Luis Obispo in 2011. After graduation, she went on to study massage at California Holistic Institute, Esalen Institute and The Academy of Clinical Massage. In 2016, Alison completed her yoga teacher training at Kripalu Center for Yoga and Health, North America's largest residential center for holistic health education.
In her yoga teaching, Alison approaches each person as an individual. It is her strong belief that yoga is for everyone. Her teaching is based in Kripalu yoga; often described as mindful hatha practice or meditation in motion, Kripalu yoga moves at a moderate pace, with room for both quiet and fiery approaches within the same session. Kripalu yoga places a special emphasis on using the wisdom of your own body, breath, and inner voice to find the right combination of exertion, release and restoration for each individual. Alison takes care to teach classes that can accommodate a wide variety of experiences; she is committed to helping others connect to their own bodies and experiences through breath and meditative movement. Always learning more, Alison is currently working towards a masters degree in Occupational Therapy."
A slower-paced yet dynamic class that balances strength and stability with poise and relaxation. Expect broad-based work and variety, from the traditional to the innovative in these classes. This class is great for beginner's to advanced yogis and yoginis.
Upcoming classes: