Ahmed Fahmy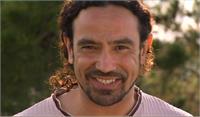 Originally from Cairo, Egypt, Ahmed has studied yoga since 2000, both Indian and Egyptian forms. He's trained with Jody Kamator and Next Generation Yoga for Kids and found he was a natural teacher. Ahmed also teaches hatha yoga with a multi-cultural approach. His DVD for children, Storyland Yoga was released in 2010 and has received much recognition, included the Parent's Choice Award for quality educational programming for children.
Ahmed Fahmy instructs the following:
Good for anybody and everybody, beginners to seasoned yogis, these classes are the best place to start and are the perfect balance of strengthening and stretching. These classes blend standing poses, seated/floor poses, meditation, and breath exercises. This class may also include some active flow or sun salutations but this component will be minimal.




Our vinyasa classes are generally more active. Expect to sweat to a faster paced class that connects movement with breath. These classes will energize, challenge, and inspire you. Expect to build strength, flexibility, mobility, and core integration. This class is for all levels and we try to offer plenty of options for the beginner or advanced yogi so it's a healthy challenge. For those who like more of a workout, these classes will focus on challenging standing poses, basic arm balances & inversions.




A contemplative and meditative practice using long-held floor postures and breath awareness to target deep fascial release. This is a tried and true way of increasing flexibility in the hips and spine. May include some standing poses to balance the practice. A slower paced class, great for those looking to increase flexibility.




This Hatha and Restorative yoga combo class is designed to help you reboot and reset to take on the new week ahead. Come strengthen and restore as you move through standing and seated postures, meditation, breathing exercises, and light stretching. This class will bring you to a peak with an active Hatha yoga practice, then melt away tension as you unwind through a comforting Restorative sequence. Join us on the mat, and get ready to start your week out right!




Sweat 'N Sip is every Friday night at 5:30pm, and is designed to kick off your weekend with a vigorous class, "Sweat", and a gathering with the SDY community, "Sip". The class will rotate between four class types and instructors every week; Baron Baptiste Power Yoga, YOBarre, Strong Vinyasa and Strong Hatha. Each class will be an hour and fifteen minutes in length followed by complimentary wine, tea, and Kombucha. The rotation is designed to allow you to try all classes and maintain a variety of classes and experience amazing teachers who are gifted in their craft! The sip is to allow you to get to know your fellow students, mingle with our staff and teachers and bring your guests to introduce them to your SDY family!