Chellis Ying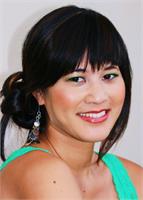 Chellis Ying is a certified power yoga instructor with international experience training rock climbers, swimmers, surfers, office workers and all-level yogis. She incorporates her experiences as a competitive swimmer and ballet dancer by emphasizing breath control, flexibility, strength, and an articulation that emulates movement in the water. She also holds a MFA in Writing and has been published in True Tales of Love and Lust, Best Travel Writing and LA Times. For more on her yoga musings, check out her
yoga blog
, which was nominated for 2012's Most Fascinating Yoga Teacher Blog.
Chellis Ying instructs the following:
A slower-paced yet dynamic class that balances strength and stability with poise and relaxation. Expect broad-based work and variety, from the traditional to the innovative in these classes. This class is great for beginner's to advanced yogis and yoginis.




This multi-leveled class is slightly more advanced than Hatha, but still accessible to all ranges of experience from beginners to seasoned yogis. The class will integrate a blend of standing poses, seated/floor poses, breathing exercises, meditation, core strengthening, arm balances and stretching. While this class will warm up with sun salutations, vinyasa flows will be kept to a minimum.