Britt Mortimer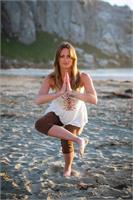 Britt Migrated from Orange County six years ago and now lives in lovely little Morro Bay. She always maintained a pretty active lifestyle and spent most of her adolescent and teen years swimming, running, and golfing. About seven years ago she was experiencing severe neck and back pain from a car accident and was drawn to a restorative yoga class as way to help ease her pain. As she got deeper into her practice she had the privilege to get to know so many wonderful yogis within the yoga community which eventually inspired her to obtain her 200-hour teacher training certification through our very own, Smiling Dog Yoga. Britt's focus is offering a practice that is welcoming to all levels. Britt is excited to be apart of the community and delighted to share her experience with others.
Britt Mortimer instructs the following:
Yoga and pregnancy seem to fit together naturally. The flowing movements help to tone and stimulate the muscles and bones without depleting energy, the seated poses nourish our tissues and organs and help us focus our minds, and the breathing exercises teach us how to remain calm and open in the face of vulnerability, stress, and states of flux. All of these aspects of a Yoga practice can enhance the experience of pregnancy and give us tools for labor, delivery and beyond.

During this series class, we'll look at Yoga sequences and exercises that create space in the body for your baby to grow, relieve common prenatal concerns, and prepare your state of mind for the changes ahead. You'll have a chance to share this important time of your life with other moms-to-be in a supportive and caring environment and participate in the prenatal experience more fully and with greater awareness.

"I labored naturally for 12 hours. I am so thankful for the yoga work I had done. I was able to maintain focus through each contraction and keep calm through breathing techniques I learned through yoga practice." -Shannon: Pre-Natal Student at S.D.Y.

Price: $75 (Register early as enrollment is limited to 8.)




Description Coming Soon...