Chelsea Leiby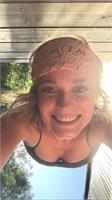 Chelsea began dancing around the age of 4 and didn't stop until she was in her early 20's. She decided to stop and focus on her studies to become a special education teacher. Teaching individuals with special needs and emotional disturbances began to take a toll on Chelsea, and she found it hard not to take her work home. She then enrolled in yoga to help her deal with the stress and emotional drainage. Yoga helped her immensely and opened her eyes to a beautiful journey she was so excited to embark on. She began using her yoga practices throughout her day and even with her students. She found peace in everything she did, and attributes it to yoga. After a few years of consistent practice, Chelsea decided to become a yoga teacher. She wanted to help share the magic of yoga with everyone. She received her yoga certification through our very own Smiling Dog Yoga studio under Roxy Banta and J Gabriel. Chelsea has a great passion for people and yoga and is so excited to share that with students at Smiling Dog. When she is not practicing yoga, Chelsea likes to spend time with her family. She loves the beach and you can find her in Avila just about every weekend with her husband and smiling dog, Oliver.
Chelsea Leiby instructs the following:
This Hatha and Restorative yoga combo class is designed to help you reboot and reset to take on the new week ahead. Come strengthen and restore as you move through standing and seated postures, meditation, breathing exercises, and light stretching. This class will bring you to a peak with an active Hatha yoga practice, then melt away tension as you unwind through a comforting Restorative sequence. Join us on the mat, and get ready to start your week out right!




Our vinyasa classes are generally more active. Expect to sweat to a faster paced class that connects movement with breath. These classes will energize, challenge, and inspire you. Expect to build strength, flexibility, mobility, and core integration. This class is for all levels and we try to offer plenty of options for the beginner or advanced yogi so it's a healthy challenge. For those who like more of a workout, these classes will focus on challenging standing poses, basic arm balances & inversions.