Chandra Janae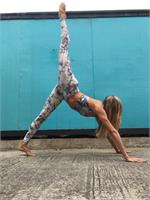 The daughter of a self-taught, nationally ranked cheerleading coach mother, and a state wrestling champion father, one of Chandra's earliest memories is of stretching and exercising. She spent time in gymnastics, figure skating, and track and field, before ultimately falling in love with ballet for it's unique combination of athleticism and art.
After an early career as a professional dancer, teacher, and choreographer with several Bay Area based companies, an injury led Chandra down a different path. Frustrations with her own physical limitations caused her to walk away from the passionate life she loved. Years later, seeking relief from the chronic pain that shadowed her, she discovered yoga & had an unexpected moment of mental clarity on the mat that led her to hang up her corporate leadership hat on the spot. She rediscovered her true passion for coaching and motivating people, with her immense drive to inspire others thru the science of health and fitness.
Chandra found yoga as an effective tool for healing old injuries & restoring full functionality back to her body. After having experienced the immense benefits of yoga first hand, she was inspired to attain her 500-ERYT. Chandra holds additional certifications in Primary Group Fitness thru AFAA, Barre, Pilates, Yoga Sculpt, Jillian Michael's BodyShred, and is an ACE CPT. Chandra's personal experiences & time spent as the former Studio Director of Smiling Dog Yoga, Barre, and Fitness, have directly shaped her teaching style, & she strives to create a safe, form focused class environment full of learning, fun, uniquely balanced sequencing, and killer playlists designed to distract you from just how hard you are actually working (#thesneakysoremethod). Her students call her classes energizing, uplifting, and dynamic. When not at the studio, Chandra can be found reading anatomy books on the beach, binge watching mindless Bravo TV shows while working out, DIYing various arts & crafts, or feeding her retail addiction. She is fluent in Sarcasm. She looks forward to welcoming you to The Dog, and can't wait to show you all our amazing community has to offer!
Chandra Janae is currently not instructing any classes.