Chandra Hardester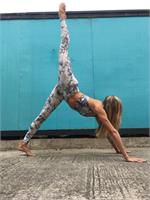 Chandra is Studio Director at Smiling Dog Yoga. The daughter of a nationally ranked cheerleading coach mother and a state wrestling champion father, one of Chandra's earliest memories is of stretching and exercising. She spent time in gymnastics, figure skating, and track and field, before ultimately falling in love with ballet for it's unique combination of athleticism and art.
After an early career as a professional dancer, teacher, and choreographer with the San Francisco Ballet and other Bay Area based companies, an injury led Chandra down a different path. She studied Broadcast Journalism and Mass Communications at San Diego State University before falling in love with the beauty and kindness of the Central Coast, and moving to attend Cal Poly SLO. Following a second career in corporate multi-store retail leadership, a loss in the family caused her to follow her true passion for coaching and motivating people, with her immense drive to inspire others thru the science and art of health and fitness.
Chandra found yoga as an effective tool for healing old injuries & restoring full functionality back to her body. After having experienced the immense benefits of yoga first hand, she was inspired to attain her 200-RYT at Smiling Dog Yoga under Valentina Petrova. Chandra holds additional certifications in Primary Group Fitness and Practical Pilates thru AFAA, YOBarre thru SDY, American Red Cross First Aid/CPR/AED, and is currently completing an additional 200-RYT in Core Strength Vinyasa with Sadie Nardini, as well as a certification in Jillian Michael's BodyShred. When not at the studio, Chandra can be found reading fitness, barre, and yoga anatomy books on the beach, binge watching mindless Bravo TV shows while working out, DIYing various arts & crafts, or feeding her retail addiction. She looks forward to welcoming you to The Dog, and can't wait to show you all our amazing community has to offer!
Chandra Hardester instructs the following:
These more advanced and active classes will energize, challenge, and inspire you. For those who like more of a workout, these classes turn on the internal fire and focus on building strength, stamina, and flexibility with lots of standing poses and some inversions. These classes are faster paced and connect movement with breath. Good for those with at least 3-6 months of (sweet) vinyasa yoga experience. Not suitable for beginners.




Our YOBarre fusion classes combine yoga, pilates, strength, cardio and some ballet moves. We will use ballet barres to help build strength, stabilize your balance and improve your flexibility. All levels are welcome, with plenty of options for beginners to circuit training junkies. Bring your yoga mat, water bottle, and towel, and we'll provide the rest.