Alison Bode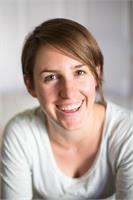 Alison Bode has a long history of interest in health and fitness, but made a point of avoiding yoga for years because she was never very flexible. With the encouragement of a friend, she attended her first yoga class in 2010. She loved the feeling of peace and grounding it gave her and has been hooked ever since.
Alison received her B.A in Philosophy from California Polytechnic State University in San Luis Obispo in 2011. After graduation, she went on to study massage at California Holistic Institute, Esalen Institute and The Academy of Clinical Massage. In 2016, Alison completed her yoga teacher training at Kripalu Center for Yoga and Health, North America's largest residential center for holistic health education.
In her yoga teaching, Alison approaches each person as an individual. It is her strong belief that yoga is for everyone. Her teaching is based in Kripalu yoga; often described as mindful hatha practice or meditation in motion, Kripalu yoga moves at a moderate pace, with room for both quiet and fiery approaches within the same session. Kripalu yoga places a special emphasis on using the wisdom of your own body, breath, and inner voice to find the right combination of exertion, release and restoration for each individual. Alison takes care to teach classes that can accommodate a wide variety of experiences; she is committed to helping others connect to their own bodies and experiences through breath and meditative movement. Always learning more, Alison is currently working towards a masters degree in Occupational Therapy."
Alison Bode instructs the following:
In To Vin, short for "Introduction to Vinyasa", is a beginning level vinyasa flow class. If you've had some exposure to yoga or are simply curious about Vinyasa and ready to take your practice to the next level, this is the place to start. This somewhat active sweet vinyasa class may incorporate both seated and standing postures, core work, Sun Salutations, and a few vinyasas guided by breath. Build strength, increase balance and flexibility, and use breath to connect the mind and body, all in a safe and open environment. Come get your flow on, and get In To Vin with us!