Sera Melini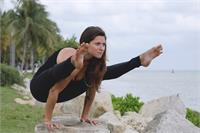 Sera has been a grateful student of Yoga and Ayurveda for many years. She has been blessed with teachers who have searched classically for the patterns of the Universe and Spirit. Her studies and experiences in the realms of Yoga, Mantra, and Ayurveda all serve to assist in increasing depth, sensitivity, and simplicity in ways that both utilize and increase grace and observation.
Some of her teachers include, Andrey Lappa of Universal Yoga, Kula Yoga Project, Sankalpah College of Yoga (Yoga), Sadhvi Abha Saraswatiji and Raghunath Cappo (Mantra), Vaidya Ravi of Poonthottam Ayurvedasram, the California College of Ayurveda, and BCD (Ayurveda). Her teachers of touch include those at Sunshine School (Chiang Mai, Thailand) and Ohm (Omsala Chiang Mai, Thailand) for the wisdom of Thai Massage and Chi Nei Tsang.
Each of her teachers has forever moved her to be more observant, respectful, humble, and sincere - qualities ever present in yoga and its teachings.
In classes we will focus on the science behind the relationships between the body, the mind, and their bridges . We are concerned with the flow of prana, how and where it moves and does not move in posture, in nadi, with consciousness. Using the paradigms of Ha-tha Yoga and Ayurveda we will explore our capacity to be both strong and flexible, moving and still, Ha and Tha, and of course, migrating in the direction of steady appreciation and awareness.
Sera Melini instructs the following:
A slower-paced yet dynamic class that balances strength and stability with poise and relaxation. Expect broad-based work and variety, from the traditional to the innovative in these classes. This class is great for beginner's to advanced yogis and yoginis.




These more advanced and active classes will energize, challenge, and inspire you. For those who like more of a workout, these classes turn on the internal fire and focus on building strength, stamina, and flexibility with lots of standing poses and some inversions. These classes are faster paced and connect movement with breath. Good for those with at least 3-6 months of (sweet) vinyasa yoga experience. Not suitable for beginners.




This multi-leveled class is slightly more advanced than Hatha, but still accessible to all ranges of experience from beginners to seasoned yogis. The class will integrate a blend of standing poses, seated/floor poses, breathing exercises, meditation, core strengthening, arm balances and stretching. While this class will warm up with sun salutations, vinyasa flows will be kept to a minimum.




We always hear breath is the foundation of the practice and yet we are rarely offered the opportunity to build the foundation of breath in a fundamental way. Until now....!

In this 3h Part II workshop we will learn what Pranayama means and how it relates to the practice of both Yoga as a whole and Asana as its part. We will learn what prana is and how it is different from breath and air as well as the various types of pranayama and what these techniques are for. The workshop will be equal parts experiential as lecture and you will leave enlightened and inspired. This is wonderful for beginner practitioners as well as those who are seasoned and also who are teaching.

Topics will include:

- Brimhana/Langhana

- Prana vs. Air vs. Breath

- 5 Vayus

- Nadi Therapies (Chikitsa)

- Kumbakas (Retentions) + Bandhas (Locks)

- Pranayama + Kosha (Body "sheeth" theory)

- How Pranayama relates to Sympathetic Nervous System vs. Parasympathetic Nervous System vs. Homeostatis

- Variety of Breath practices and how to combine them with each other as well as asanas

- How to adapt breath practices for specific goals of balance and harmony

Date : Saturday, September 9, 1-4pm

Cost : $55

phone : 805.546.9100 or in person at the studio!




Our vinyasa classes are generally more active. Expect to sweat to a faster paced class that connects movement with breath. These classes will energize, challenge, and inspire you. Expect to build strength, flexibility, mobility, and core integration. This class is for all levels and we try to offer plenty of options for the beginner or advanced yogi so it's a healthy challenge. For those who like more of a workout, these classes will focus on challenging standing poses, basic arm balances & inversions.




Good for anybody and everybody, beginners to seasoned yogis, these classes are the best place to start and are the perfect balance of strengthening and stretching. These classes blend standing poses, seated/floor poses, meditation, and breath exercises. This class may also include some active flow or sun salutations but this component will be minimal.




A contemplative and meditative practice using long-held floor postures and breath awareness to target deep fascial release. This is a tried and true way of increasing flexibility in the hips and spine. May include some standing poses to balance the practice. A slower paced class, great for those looking to increase flexibility.