Danyelle Parker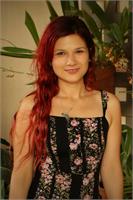 Danyelle is a massage practitioner graduate from the California Holistic Institute. Since finishing the program in 2015 she has continued her education of both eastern and western modalities with an emphasis in Ayurveda. She likes to incorporate these into each of her sessions. She was drawn to this work for the possibility of helping others in a positive and personal way.
Danyelle has a passion for photography and art. She enjoys traveling but often finds herself near the ocean where she can feel rejuvenated and find that quiet space and peace within.
Danyelle Parker is currently not instructing any classes.