Corlese Todd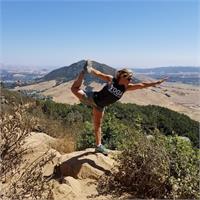 My first Bikram Yoga class was in 2007 and although I didn't fall instantly in love, there was something about it that stuck with me. My second class was in November 2012 at Bikram Yoga Chelmsford and I've never looked back. After having gone through minor back surgery after my first child and struggling with pain again after my second child, I knew I needed something stronger than what the doctors were prescribing. Pain medications were only masking the problem, but Bikram Yoga was fixing it. Not to mention all the additional side affects like better overall health, increased energy and strength, less stress and more confidence.
I quickly fast-tracked my practice by taking a private lesson, began training and competed in my first competition in October 2013 and left for teacher training in April 2014!
I love that I can share this incredible "medicine" through teaching. I am inspired everyday by the changes, struggles and progress I see my students make.
In 2014, I found myself coaching students for both the New England Regional Yoga Asana Championships and National Championships and it has become another amazing step in my career as a Bikram Yoga teacher.
I had another new journey begin in 2015 when I took my first Yoga Sculpt class followed shortly by my first Inferno Hot Pilates class. I fell immediately in love with the blend of yoga, weight training and cardio and found myself back in teacher training mode. Today I am a certified instructor of both Yoga Sculpt and Inferno Hot Pilates.
Although my formal background is in marketing, I'm happy to say today that I am a wife, full-time mom of two, yoga & fitness instructor and lifetime student!
Corlese Todd instructs the following:
Inferno Hot Pilates is high-intensity interval training (HIIT) using Pilates principles. We will focus on using core strength through various low-impact exercises to help get you to your fitness goals. The room will be warm, so be sure to bring your mat, towel, water...and be ready to rock out with some fun music!

*Join us for this special limited opportunity to experience the Inferno Pilates craze with instructor Corlese Todd! Please note that the room will be heated between 85-95 degrees for the duration of this 45 minute class. Don't forget to stop by our vanities to freshen up with our favorite lotions & potions before you get back to your day!




Take your yoga practice and overall fitness to the next level, with Smiling Dog Instructor, Corlese Todd! This 5 week series will take you through a heated series of therapeutic postures, a Pilates class using the proven method of high intensity interval training (HIIT) and a sculpting class using a power flow with light hand weights all designed to stretch, strengthen, tone and burn calories.

Other topics covered will be:
-Why heat? The benefits and how you can be prepared (not scared!)
-The importance of alignment and form over depth, speed and with the addition of equipment (weights, bands, etc.)
-How to get the most out of your class-inside AND outside the studio

This series is open to everyone especially beginners to either a yoga practice, fitness class or both.

Cost: $75 (10% off for SDY Members & Staff); Enroll early, spaces are limited to 8 for this limited edition series!




When muscle meets yoga, Yoga Sculpt is born. Boost metabolism and build lean muscle mass as you move to upbeat tracks. You'll combine free weights with a yoga flow and cardio to intensify each yoga pose while mixing in strength-training moves like squats, lunges and bicep curls.

What to Bring: A bottle of water, a towel and a yoga mat. Weights will be provided.




Join us every Friday for a one hour fusion class that rotates weekly to keep you sweatin'! Each week, Smiling Dog Yoga, Barre, and Fitness hosts one of four of our most requested, fused fitness modalities: YOBarre, Inferno Hot Pilates, Yoga Sculpt, and Barrelates. This is a great opportunity to try something new and find a well-balanced program on your mat with us. Bring a mat, water bottle, and towel. We'll provide the fun!

Meet our amazing community on the first Friday of every month, as we host our once monthly Sweat 'N Sip Mixer, an extension of our Fusion Fridays! Stay after our one hour Fusion Friday class to sip complimentary wine or Conscious Kombucha on our patio, surrounded by candles & twinkling lights, good tunes, and great people. Check our online schedule for dates and instructors!