Corlese Todd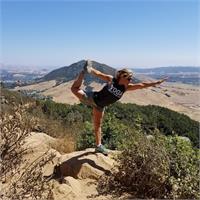 My first Bikram Yoga class was in 2007 and although I didn't fall instantly in love, there was something about it that stuck with me. My second class was in November 2012 at Bikram Yoga Chelmsford and I've never looked back. After having gone through minor back surgery after my first child and struggling with pain again after my second child, I knew I needed something stronger than what the doctors were prescribing. Pain medications were only masking the problem, but Bikram Yoga was fixing it. Not to mention all the additional side affects like better overall health, increased energy and strength, less stress and more confidence.
I quickly fast-tracked my practice by taking a private lesson, began training and competed in my first competition in October 2013 and left for teacher training in April 2014!
I love that I can share this incredible "medicine" through teaching. I am inspired everyday by the changes, struggles and progress I see my students make.
In 2014, I found myself coaching students for both the New England Regional Yoga Asana Championships and National Championships and it has become another amazing step in my career as a Bikram Yoga teacher.
I had another new journey begin in 2015 when I took my first Yoga Sculpt class followed shortly by my first Inferno Hot Pilates class. I fell immediately in love with the blend of yoga, weight training and cardio and found myself back in teacher training mode. Today I am a certified instructor of both Yoga Sculpt and Inferno Hot Pilates.
Although my formal background is in marketing, I'm happy to say today that I am a wife, full-time mom of two, yoga & fitness instructor and lifetime student!
Corlese Todd instructs the following:
Inferno Hot Pilates is high-intensity interval training (HIIT) using Pilates principles. We will focus on using core strength through various low-impact exercises to help get you to your fitness goals. The room will be warm, so be sure to bring your mat, towel, water...and be ready to rock out with some fun music!

*Join us for this special limited opportunity to experience the Inferno Pilates craze with instructor Corlese Todd! Please note that the room will be heated between 85-95 degrees for the duration of this 45 minute class. Don't forget to stop by our vanities to freshen up with our favorite lotions & potions before you get back to your day!




Our Sweat 'N Sip event is every Friday night at 5:30pm, and is designed to kick off your weekend with a vigorous class, "Sweat", and a gathering with the SDY community, "Sip". The class will rotate between class types and instructors every week. Expect to experience some of our most popular class types, such as YOBarre, Inferno Hot Pilates, Reboot Yoga, Strong Vinyasa and Strong Hatha. Each class will be an hour and fifteen minutes in length followed by complimentary wine, tea, and Kombucha on our patio. The rotation is designed to allow you to try all classes and experience our amazing teachers who are gifted in their craft! The sip is to allow you to get to know your fellow students & mingle with our staff and teachers. Bring your friends & family and introduce them to your SDY family & home away from home!