Danyelle Forbes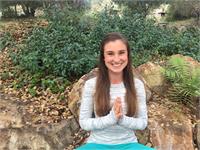 Danyelle Forbes instructs the following:
Are you interested in becoming a Barre instructor? Join us this Sunday at Smiling Dog Yoga, Barre & Fitness for a free info session where Danyelle will talk about what to expect in the training. Come ask questions and learn about the upcoming training and see if this training is right for you!




Yoga & Sculpt is a vigorous Yoga class which includes Vinyasa and light hand held weights. The light hand held weights add more resistance to your flow and more intensity to your movement. Prepare to sweat and work hard in this hour long class and bring your regular yoga class up a notch!

What do I bring to class? A towel, a mat and a bottle of water. Hand held weights will be provided.




This Hatha and Restorative yoga combo class is designed to help you reboot and reset to take on the new week ahead. Come strengthen and restore as you move through standing and seated postures, meditation, breathing exercises, and light stretching. This class will bring you to a peak with an active Hatha yoga practice, then melt away tension as you unwind through a comforting Restorative sequence. Join us on the mat, and get ready to start your week out right!




Our vinyasa classes are generally more active. Expect to sweat to a faster paced class that connects movement with breath. This class will energize, challenge, and inspire you. Expect to build strength, flexibility, mobility, and core integration. This class is for all levels, and we try to offer plenty of options for the beginner or advanced yogi so it's a healthy challenge. For those who like more of a workout, this class will focus on challenging standing poses, basic arm balances, and inversions.