Pam Pahati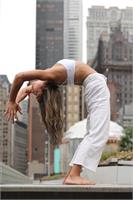 the methodological discipline her teachers instill into her personal practice greatly influence her teaching style. the importance of alignment and stability, and syncing the breath with body movement is underlined in all her classes.
she's so super grateful for her teachers and intends to be a lifetime student of this practice; always learning, constantly striving to improve herself. her mission is to inspire others to realize their full potential; encouraging them to take their newfound confidence and clarity off the mat and into everyday life.
Pam Pahati instructs the following:
This Hatha and Restorative yoga combo class is designed to help you reboot and reset to take on the new week ahead. Come strengthen and restore as you move through standing and seated postures, meditation, breathing exercises, and light stretching. This class will bring you to a peak with an active Hatha yoga practice, then melt away tension as you unwind through a comforting Restorative sequence. Join us on the mat, and get ready to start your week out right!




Great for anybody and everybody, beginners to seasoned yogis, Hatha is the best place to start and is the perfect balance of strengthening and stretching. It blends standing poses, seated/floor poses, meditation, and breath exercises. This class may also include some active flow or sun salutations, but will be minimal.




This all-level vinyasa class is based off of the astanga yoga primary series, in Sanskrit called "yoga chikitsa" or "yoga therapy", with modifications and variations provided - beginners welcome. Emphasis will be on breath ("pranayama"), posture ("asana"), and eye gaze ("drishti") to help purify our body, calm our nervous system, and quiet our mind.




Our yin yoga class is a contemplative and meditative practice using long-held floor postures and breath awareness to target deep fascial release. This is a tried and true way of increasing flexibility in the hips and spine. May include some standing poses to balance the practice. A slower paced class, great for those looking to increase flexibility.




Yoga 101 is a slower-paced yet dynamic class that balances strength and stability with poise and relaxation. Expect broad-based work and variety, from traditional to complex, with a focus on educational instruction. This class is great for beginners to advanced yogis.