Jessica Friedland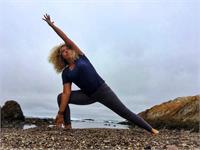 An avid student of the power of intention, consciousness and the relationship between body, mind and spirit, Jessica has witnessed the trans-formative power of Yoga in her life firsthand. After a terrible car accident in 2009 that almost cost her a leg and her life, she spent over a year off her feet and had to teach herself how to walk all over again, simply grateful just to be alive. When she truly discovered Yoga in 2017, it completely revolutionized her thinking, bringing relief from the pain she had accepted as an inescapable reality for so many years and healing the injuries of the body and of the heart.
A graduate from the 2018 Smiling Dog 200 hour yoga teacher training with Sera Melini, she feels driven to try to help others receive some of the same amazing benefits a consistent practice has bestowed upon her life, and open minds to the possibility of change.
Jessica Friedland instructs the following:
This more advanced and active class will energize, challenge, and inspire you. For those who like more of a workout, Strong Vinyasa will turn on the internal fire and focus on building strength, stamina, and flexibility with a variety of standing poses and some inversions. This class is faster paced and connects movement with breath. Good for those with at least 3-6 months of (sweet) vinyasa yoga experience. Not suitable for beginners.




This multi-leveled class is slightly more advanced than Hatha, but still accessible to all ranges of experience from beginners to seasoned yogis. The class will integrate a blend of standing poses, seated/floor poses, breathing exercises, meditation, core strengthening, arm balances and stretching. While this class will warm up with sun salutations, vinyasa flows will be kept to a minimum.