Pilates
This class is taught by:
Stephanie Moran is the owner of Smiling Dog Yoga and the creator of YOBarre. She is a Certified Group Fitness instructor that has been teaching for 13 years. She received her very first group fitness certification from Les Mills International in 2003 where she started her career in fitness as a Body Pump instructor. She continued on in certifications in Body Attack, Body Flow, Body Combat and Body Jam where she learned fitness formats involving kickboxing, high-low cardio aerobics, yoga, pilates, thai-chi and even dance based aerobics for those that really wanted to boogie! In addition to her extensive training from Les Mills, she is also certified by AFFA in Primary Group, Indoor Cycling, On the Mat training ans last but not least Zumba! Aside from her husband and four kids, teaching fitness and educating on health and wellness is her favorite thing to do and a huge passion for her. And as each new trend awakens in this industry she is always ready to try it and when she falls in love - gets certified! Her newly discovered passion for barre is energizing her creativity with fitness and discovering new ways to lead, teach and discover fitness with her students.
Stephanie is also Senior Vice President of Sales at MINDBODY and brings her passion and drive to our humble space!
Aside from teaching, owning the studio, and leading an amazing sales team at MINDBODY Stephanie spends her time with her four beautiful children and her amazing husband. She loves to travel and shop and loves to do the two together. Favorite city to travel to and shop - London!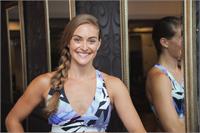 Rebecca has just returned to the Central Coast after living in Australia for the past four years. She thoroughly enjoys being active and is constantly striving to learn more about fitness, wellness, and helping others live happy, healthy lives. Rebecca turned to Pilates four years ago when suffering significant pain and injuries due to years of intensive dance and soccer training. Having multiple surgeries, she credits Pilates for accelerating her rehabilitation and permitting a full recovery. After practicing Pilates as a student, Rebecca decided to pass on the benefits to others and received her mat and reformer Pilates certifications in Australia through Studio Pilates International. She also became certified in the leading Australian program, Barre Attack. She prides herself on teaching each client correct technique in order to improve, grow stronger, gain body awareness, look better, and most importantly to feel confident about his/her inner and outer self. Rebecca aims to provide well-rounded and challenging workouts in a fun and safe environment. When not teaching Pilates or joyfully teaching children, Rebecca is hiking, fly fishing, and enjoying the great outdoors with her husband Eric!
Our Pilates mat class involves a series of exercises that teach body awareness and encourage a greater body/mind connection. The benefits include improved coordination skills, strengthening of the spinal muscles and core areas, improved flexibility, better posture, and long, lean muscle tone. This class is suitable for all fitness levels.
Upcoming classes: