Reboot Yoga
This class is taught by:
the methodological discipline her teachers instill into her personal practice greatly influence her teaching style. the importance of alignment and stability, and syncing the breath with body movement is underlined in all her classes.
she's so super grateful for her teachers and intends to be a lifetime student of this practice; always learning, constantly striving to improve herself. her mission is to inspire others to realize their full potential; encouraging them to take their newfound confidence and clarity off the mat and into everyday life.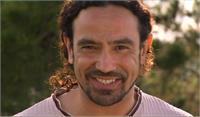 Originally from Cairo, Egypt, Ahmed has studied yoga since 2000, both Indian and Egyptian forms. He's trained with Jody Kamator and Next Generation Yoga for Kids and found he was a natural teacher. Ahmed also teaches hatha yoga with a multi-cultural approach. His DVD for children, Storyland Yoga was released in 2010 and has received much recognition, included the Parent's Choice Award for quality educational programming for children.
This Hatha and Restorative yoga combo class is designed to help you reboot and reset to take on the new week ahead. Come strengthen and restore as you move through standing and seated postures, meditation, breathing exercises, and light stretching. This class will bring you to a peak with an active Hatha yoga practice, then melt away tension as you unwind through a comforting Restorative sequence. Join us on the mat, and get ready to start your week out right!
Upcoming classes: