Tonya Holmes-Cusick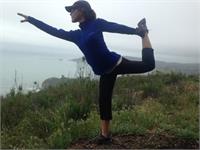 Tonya was touched by the beauty and grace of Yoga from her very first Yoga class many years ago. Over the past few years she's been dedicated to the practice, study and teachings of yoga since her discovery of all the joys and benefits it brings. She had the wonderful opportunity of continuing her Yoga journey in beautiful British Columbia where she completed her 200RYT with Bernie Clark, Dan Clement, Eion Finn and Insiya Rasiwala-Finn.
Tonya Holmes-Cusick instructs the following:
Good for anybody and everybody, beginners to seasoned yogis, these classes are the best place to start and are the perfect balance of strengthening and stretching. These classes blend standing poses, seated/floor poses, meditation, and breath exercises. This class may also include some active flow or sun salutations but this component will be minimal.