Alexis King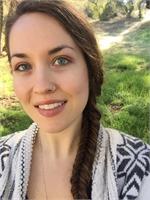 Alexis is an Oklahoma native who travelled to California in search of art, nature, and adventure. She graduated from Cal Poly in 2012 with a degree in Art and Design. Her love of art guided her towards the practice of yoga as a means of personal expression, stress relief and inner peace. Alexis studied under Roxy Borger and Jonathan Gabriel in the Smiling Dog Yoga teacher training class of 2015/2016, earning her RYC 200 hour certification. Her teaching style combines fluid movement, connection with breath, mindfulness, and acceptance of self. Alexis believes that yoga is a means for deepening respect and love of the body, mind and spirit by embracing and celebrating all shapes, sizes, and abilities in her classes. Aside from yoga, Alexis works in social services at a non-profit organization and as a tattoo artist specializing in custom, hand-poked designs.
Alexis King instructs the following:
A slower-paced yet dynamic class that balances strength and stability with poise and relaxation. Expect broad-based work and variety, from the traditional to the innovative in these classes. This class is great for beginner's to advanced yogis and yoginis.




Sweat 'N Sip is every Friday night at 5:30pm, and is designed to kick off your weekend with a vigorous class, "Sweat", and a gathering with the SDY community, "Sip". The class will rotate between four class types and instructors every week; Baron Baptiste Power Yoga, YOBarre, Strong Vinyasa and Strong Hatha. Each class will be an hour and fifteen minutes in length followed by complimentary wine, tea, and Kombucha. The rotation is designed to allow you to try all classes and maintain a variety of classes and experience amazing teachers who are gifted in their craft! The sip is to allow you to get to know your fellow students, mingle with our staff and teachers and bring your guests to introduce them to your SDY family!




This multi-leveled class is slightly more advanced than Hatha, but still accessible to all ranges of experience from beginners to seasoned yogis. The class will integrate a blend of standing poses, seated/floor poses, breathing exercises, meditation, core strengthening, arm balances and stretching. While this class will warm up with sun salutations, vinyasa flows will be kept to a minimum.




These more advanced and active classes will energize, challenge, and inspire you. For those who like more of a workout, these classes turn on the internal fire and focus on building strength, stamina, and flexibility with lots of standing poses and some inversions. These classes are faster paced and connect movement with breath. Good for those with at least 3-6 months of (sweet) vinyasa yoga experience. Not suitable for beginners.




Good for anybody and everybody, beginners to seasoned yogis, these classes are the best place to start and are the perfect balance of strengthening and stretching. These classes blend standing poses, seated/floor poses, meditation, and breath exercises. This class may also include some active flow or sun salutations but this component will be minimal.




In To Vin, short for "Introduction to Vinyasa", is a beginning level vinyasa flow class. If you've had some exposure to yoga or are simply curious about Vinyasa and ready to take your practice to the next level, this is the place to start. This somewhat active sweet vinyasa class may incorporate both seated and standing postures, core work, Sun Salutations, and a few vinyasas guided by breath. Build strength, increase balance and flexibility, and use breath to connect the mind and body, all in a safe and open environment. Come get your flow on, and get In To Vin with us!




A contemplative and meditative practice using long-held floor postures and breath awareness to target deep fascial release. This is a tried and true way of increasing flexibility in the hips and spine. May include some standing poses to balance the practice. A slower paced class, great for those looking to increase flexibility.