Ally Allison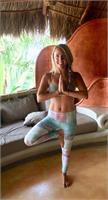 Ally is a San Diego local who grew up an avid athlete, raised by her Yogi dad and Zumba loving mom. Her love for health and wellness brought her to the Central Coast where she graduated with a Kinesiology degree from Cal Poly SLO with an emphasis on Exercise Science and Health Promotion. After college she moved to Perth, Western Australia for 2 years to work, travel, and expand her mind. She returned to SLO to work for the health and wellness hub MINDBODY and through their employee wellness program she fell in love with Barre. She has been a barre instructor for the last 4 years at multiple studios on the central coast and is always excited to share her passion with others. In her free time you can find her Stand Up Paddleboarding, hiking, and camping with her fiancé and their 2 French bulldogs.
Ally Allison instructs the following:
Our Barre fitness classes are ballet-inspired workouts done at a portable barre when participants will experience plies and releves along micro inch pulses for toning and creating long lean muscle. Participants can expect to sweat and feel the burn without feeling full muscle fatigue when it is all said and done! We play the music loud and keep the energy high!