Kristy Zoshak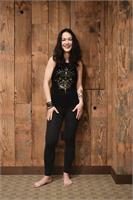 An ex-Brooklynite relocated to the central coast, Kristy combines east coast attitude with west coast chill. She believes that developing a personal practice (whether it's yoga, fitness, a combination of the two, or something else entirely) is more important now than ever. The idea of helping others develop their own practice is what lead her to complete her 200-hour teacher certification at Smiling Dog Yoga, Barre, and Fitness. Kristy loves to flow to hip hop and EDM and you're likely to hear one or both in her classes. Her alter ego is a mermaid.
Kristy Zoshak instructs the following:
HHYF is our newest addition to SDYBF where hip hop meets Vinyasa. Vinyasa is mindful movement and in HHYF we add louder music with beats to enhance the experience and get lost in the music. We flow through our movements with intention, moving in and out of postures together that will open, stretch and restore your body from the inside-out. Each class will help link breath and movement, deepen the connection of mind and body, and bring a greater consciousness to the body and soul. We ask that you come with an open mind, and a rhythmic beat - the music is loud & hard. Come get your thug on.




Our yin yoga class is a contemplative and meditative practice using long-held floor postures and breath awareness to target deep fascial release. This is a tried and true way of increasing flexibility in the hips and spine. May include some standing poses to balance the practice. A slower paced class, great for those looking to increase flexibility.




Join us every Friday for a one hour fusion class that rotates weekly to keep you sweatin'! Each week, Smiling Dog Yoga, Barre, and Fitness offers fused yoga, fitness and barre modalities: YOBarre, Pialtes, YOSculpt, YOCore, Barre, Cylce and Flow. This is a great opportunity to try something new and find a well-balanced program. Bring a mat, water bottle, and towel. We'll provide the fun!




This Hatha and Restorative yoga combo class is designed to help you reboot and reset to take on the new week ahead. Come strengthen and restore as you move through standing and seated postures, meditation, breathing exercises, and light stretching. This class will bring you to a peak with an active Hatha yoga practice, then melt away tension as you unwind through a comforting Restorative sequence. Join us on the mat, and get ready to start your week out right!