Kristy Zoshak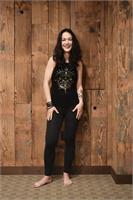 An ex-Brooklynite relocated to the central coast, Kristy combines east coast attitude with west coast chill. She believes that developing a personal practice (whether it's yoga, fitness, a combination of the two, or something else entirely) is more important now than ever. The idea of helping others develop their own practice is what lead her to complete her 200-hour teacher certification at Smiling Dog Yoga, Barre, and Fitness. Kristy loves to flow to hip hop and EDM and you're likely to hear one or both in her classes. Her alter ego is a mermaid.
Kristy Zoshak instructs the following:
Yoga 101 is a slower-paced yet dynamic class that balances strength and stability with poise and relaxation. Expect broad-based work and variety, from traditional to complex, with a focus on educational instruction. This class is great for beginners to advanced yogis.




Great for anybody and everybody, beginners to seasoned yogis, Hatha is the best place to start and is the perfect balance of strengthening and stretching. It blends standing poses, seated/floor poses, meditation, and breath exercises. This class may also include some active flow or sun salutations, but will be minimal.




Our vinyasa classes are generally more active. Expect to sweat to a faster paced class that connects movement with breath. This class will energize, challenge, and inspire you. Expect to build strength, flexibility, mobility, and core integration. This class is for all levels, and we try to offer plenty of options for the beginner or advanced yogi so it's a healthy challenge. For those who like more of a workout, this class will focus on challenging standing poses, basic arm balances, and inversions.




This multi-leveled class is slightly more advanced than Hatha, but still accessible to all ranges of experience from beginners to seasoned yogis. The class will integrate a blend of standing poses, seated/floor poses, breathing exercises, meditation, core strengthening, arm balances and stretching. While this class will warm up with sun salutations, vinyasa flows will be kept to a minimum.